This summer's longer road trip was to Denmark and Sweden. Despite what we said last year. Never say never. Yes, the drive from Stockholm through Sweden and Denmark to Kolding was still long. And yes, the traffic jams in Denmark are still chaotic, but it was a nice trip and worth it. We had 5 dogs with us, of which 4 were shown. 2 salt and pepper girls, "Ziri" Ch Imbrez Green Express and "Grace" Ch Imbrez Too Bizzy To Care, black and silver girl "Aave" Ch Imbrez Opera's Ghost and black male "Jack" Ch Imbrez Get Bizzy. 4 shows in two weekends and some summer holiday in between. Sounded like a plan.
900 kilometers drive needed also some breaks. It was quite rainy day so we tried to stop whenever it wasn't raining. Sweet break was a stop at Polkagris fabric in Jonköping. 
And the bridge between Sweden and Denmark was as impressive as last time.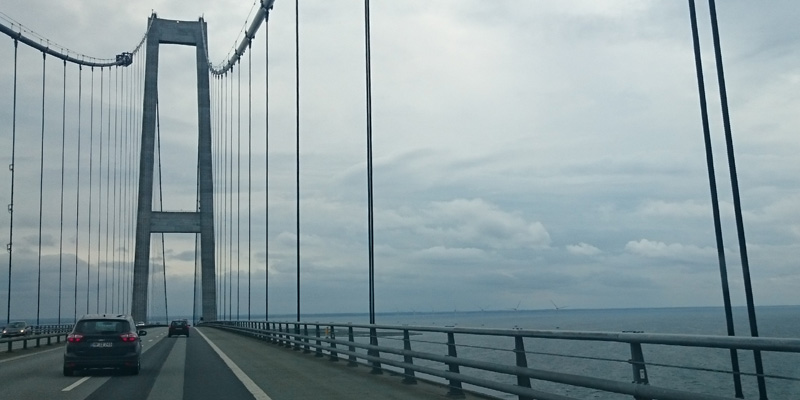 After terrible traffic between Copenhagen and the next islands we finally arrived at Vejen and put our show tent up by the ring side and got ready for the morning. The first show in Vejen was International and we showed all four dogs for the judge Andrew Beare from Ireland. Ziri got revenge from last year and this year we made it, Imbrez Green Express BOB and also Danish Champion. Grace Champion Class 3 with Excellent critique. Mikko did good work with Jack, resulting to Best Male, BOS and well needed CACIB and Danish Certificate and Championship. The last but not least in the ring was black and silver Aave, she moved well and got very nice critique as well. Result: Imbrez Opera's Ghost BOB with CACIB and Danish Certificate and Championship! It was lovely weather and the show was very well organized again. We were very proud to show two Imbrez dogs in the final ring.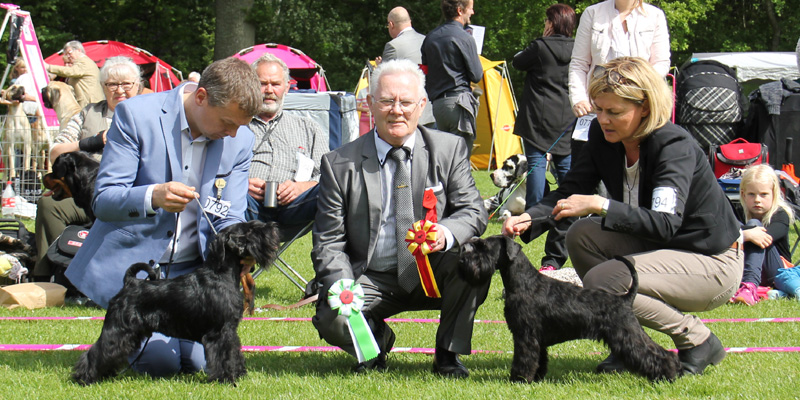 And this much sightseeing we got done in Kolding. Note to yourself: when taking dogs for little sightseeing walk in the city, remember bring the leashes as well. So, exactly this much we saw of great Kolding Hus.
On Sunday, another International Show in Vejen. Black Jack started, but his tail was too curly and he ended up Best Male 3. Yes, Sunday was all about tails. We showed only Grace in salt and pepper bitches, and that was good decision, Imbrez Too Bizzy To Care shined and the judge Friederike Kappacher from Austria gave her BOB, and the needed CACIB as well as certificate. This meant that also the fourth dog became Danish Champion! Wow, mission complished. When in black and silvers Imbrez Opera's Ghost was Best Bitch, BOS and got her second CACIB, we were very pleased. 
Then it was time for some sightseeing and vacation. We moved couple of hours north and close to Aalborg. After very nice hotel in Kolding, the next cozy looking small old inn wasn't so nice surprise. The countryside location was nice, but the rooms and inn was like from 1960's. Very retro. Also very damp and not nice. We spare you from more pics. Good thing we only spent nights there, the next days went by with Lone at Kennel Schnauzerhuset. Amazing food, what a food artist she is! As we also wanted to see the sea and beach, we drove to Lone's favourite restaurant Svinklov. This recommendation was a good one, the beach, sea and the lunch are something to remember for a long time. And of course there was one compulsory shopping day at Aalborg. Even we must say, the prices in Denmark were nearly as high than in Norway, so shopping didn't get out of hands.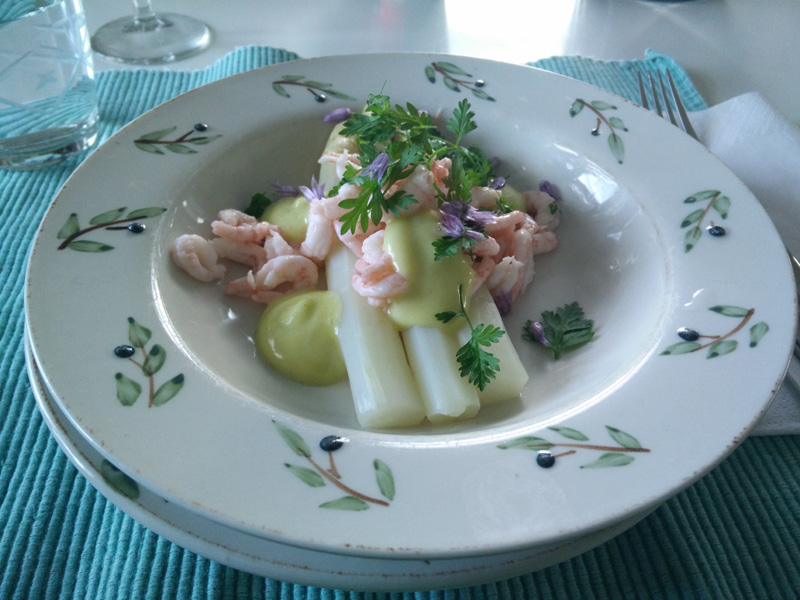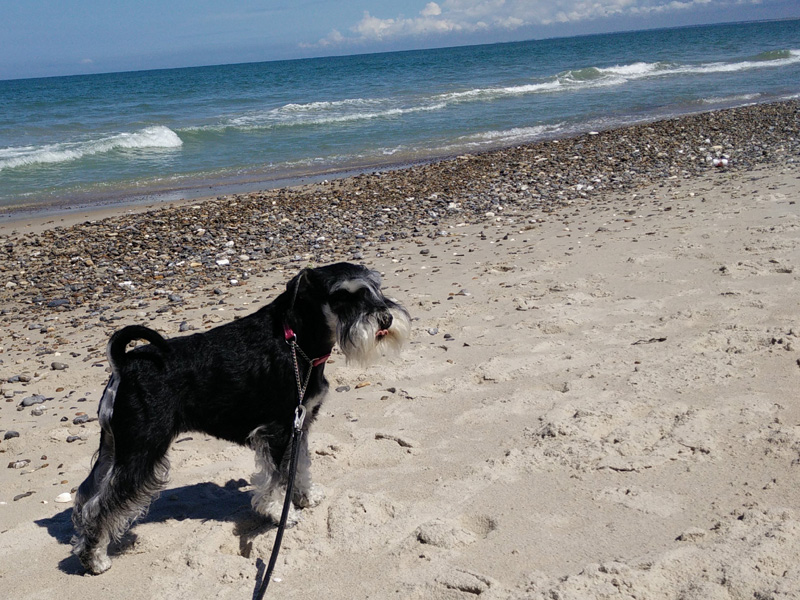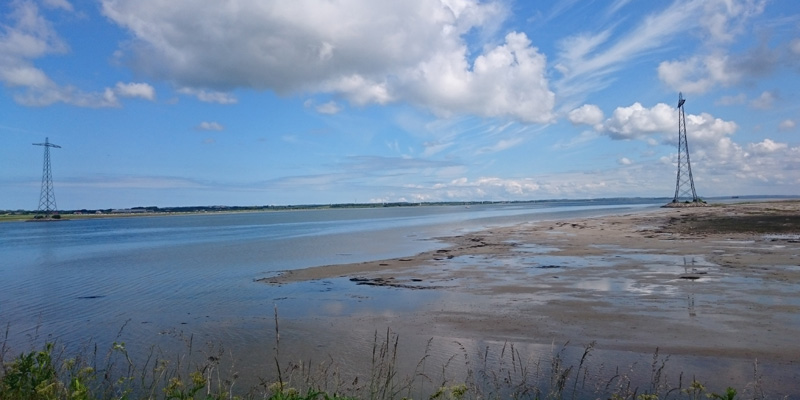 Then we started heading towards Sweden and drove via Copenhagen to visit Merete from Kennel Starling. What a wonderful garden and even own forest! Our dogs couldn't have been happier. This certainly gave us some ideas about bigger garden… On Friday we took the boat from Helsingor to Helsingborg. 10 minutes boat trip was even faster than the bridge, and also saved us from some driving. Defenitely something to think about next time as well. 
The first stop at Pixbo, nice walk with dogs and chatting over coffee. Then short trip to Borås, tent up and getting ready for the next shows. The hotel was nice and our dogs especially enjoyed the big couch just for them. And what would trip to Gothenburg (or nearby it) be without great shrimp sandwich? 
We looked forward showing for Geraldine Kelly from US. But unfortunately we found only in the Swedish Speciality Show morning that she couldn't make it to Sweden. Salt and peppers as well as black and silvers were judged by Maureen Tyte-Byrne from Ireland. We showed only the girls and got 1 new Swedish Champion as black and silver Imbrez Opera's Ghost was Best Bitch and BOS with certificate. Champion girls Grace and Ziri were placed class2 and 3, Grace being also BB4.
And on Sunday it was time for the last show. We were still hoping to get Bizzy siblings Swedish Champions, so all in for the last show. Well, everything went quite well until the point when we realized that car battery was empty. And you can imagine how much stuff 5 dogs, crates and all show stuff is…quick thinking, could we take a big taxi to show ground? We tried to get power from another car, but it didn't work. Luckily we met our saving angel who stayed in the same hotel and had big motor home. So, we unpacked the car in the street and run everything to the other car. At least the tourist group waiting for their bus really got something to see…
Sometimes it's good to be in time, so after we were at the show ground we still had one hour time for the showing. Thank you Sune once more! And note to yourself: if there is a point WHY you should move the car to the garage at night, like to say unplug the car fridge, next time just do it. No matter how tired you are. At least the juice was cold in the morning (and Merete's surdej also). After this little extra drama the show started with black and silvers. Aave was judged by Refet Hadzic from Bosnia-Herzegovina and she was placed BB3. She had already received much more than expected from this circuit so we were pleased.  We were excited to show salt and pepper girls and black Jack to American judge Peggy Beisel-McIlwaine. The girls placed nearly the same as day before: Imbrez Too Bizzy To Care Champion Class 2 and Best Bitch 3 with reserve-certificate, so close to her Champion title, but oh well, we just have to go back to Sweden with her. Ziri Champion class 3 with exc and cq as well. It's not very often you show two girls who just want to mate with each other in the ring. Yes, if I forgot to mention, 3 out of 4 bitches were in heat when we left, and all 4 when we got back. Just to give some extra to the trip. SO, taking this into consideration, we are very proud of Jack who showed so nicely on Sunday and went Best Male and BOB. Imbrez Get Bizzy also received certificate and became new Swedish Champion as well. After Sofia was so kind to give us ride back to hotel, we got our car fixed (well done VW service) and were not going to stay in Sweden after all. On Monday, ride to Stockholm, boat overnight to Turku and home sweet home. What a trip!
Was wonderful to see so many friends and dogs, as well as meet new friends. Thank you Lone and Merete for your great hospitality and food. Thank you also to everyone who helped as during our trip, took care of our dogs at home and also thanks to Anniina and Emppu for "loaning" your dogs. Hopefully we also got something else to bring home other than new champion titles. We will see.
Links to Facebook:
Denmark:
https://www.facebook.com/niina.rovio/posts/1075005839195232?pnref=story
Sweden:
Jack's day in Borås All breed show. Both Bizzy kids did it great today, but Imbrez Get Bizzy owned the day. BOB, CERT…

Posted by Mikko Samuli on Sunday, June 28, 2015
https://www.facebook.com/niina.rovio/posts/1077581135604369?pnref=story
https://www.facebook.com/niina.rovio/posts/1078166708879145?pnref=story